What's new for Shvat 5777-February 2017?
Dear friends,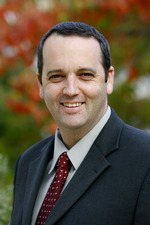 In recent days, tides of hatred and intolerance have resurfaced within our midst. Two days ago, we woke up to the saddening news of a Jewish cemetery in St. Louis having been desecrated. This violent act of baseless hatred joins a series of vandalistic acts which have hit numerous Jewish centers across the US. In these times, we stand strong with our friends and partners in St. Louis and across the United States, and know that the solidarity which we share will overcome this wave of darkness. I invite you to read the message of solidarity we sent to our friends in St. Louis. Here in Israel too, incitement against Reform Judaism continues to rise, with a recent video by the "Liba" organization demanding that the Kotel resolution be annulled completely, speaking out against progressive streams of Judaism.

All this is taking place just as we are about to enter Shabbat Shkalim, the Shabbat before the Month of Adar – the month of joy, during which we will celebrate Purim. This Shabbat we will read Parashat Mishpatim, which presents us with the numerous commandments and laws that the Jewish people are expected to keep, including what shall happen to those who commit harm onto others. While we are against responding to violence with violence, as verse 24 tells us, "eye for eye, tooth for tooth" (Exodus 21; 24), what is clear from this Parasha is that violence shall not be tolerated and that we can not stay silent in the face of it.

The Ta'anit Tractate in the Babylonian Talmud teaches us that "when Adar enters, we rejoice" (29; 1). Even as we are faced with acts of violence and intolerance, let us not respond to them eye for eye and tooth for tooth. Rather, may we learn instead from our Sages and take advantage of this Rosh Hodesh to rejoice.

I wish you a Hodesh Tov and a Shabbat Shalom. This month, may we increase the joy and light and decrease the hatred and darkness. As you will see below, we have a lot for which we can be joyful.

Sincerely,


Rabbi Gilad Kariv
---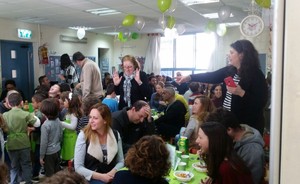 Yom Mishpacha
In Israel, instead of having a "Mother's" or "Father's" day, children celebrate Family Day in order to be inclusive of all family types. In Gan Tirosh in Tel Aviv the children decided to set up a restaurant for their parents. They created a three course menu, set up the "restaurant" and waited on their parents. A happy family day indeed!
---
The IMPJ is taking specific steps to ensure its congregations and programs are accessible to people with disabilities and is increasing its effort in the area of inclusion. In addition to our summer camp's "Hamula" unit for campers with special needs, we provide training session for our community leaders on how to welcome people with disabilities, from handicap accessible entrances, to making all feel welcome and included in all IMPJ activities and celebrations. The IMPJ encourages its communities to provide a strong model for full social integration, to remove obstacles, and to create forms of participation ensuring that disability is no obstacle to those wishing to realize their potential as members of a diverse and active community.
---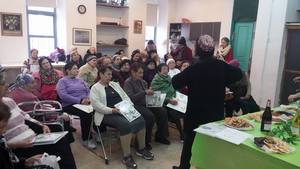 Tu B'Shvat with Karen b'Kavod
Karen b'Kavod, the IMPJ fund for humanitarian assistance, along with Rabbi Ada Zavidov and Cantor Evan Cohen of Kehillat Har-El in Jerusalem, and many volunteers spent Tu B'Shvat with woman from an Elderly Day Care Center in Jerusalem. The group had a Tu B'Shvat Seder, learned and sang together. The stories and songs of the Senior women enriched the evening, a wonderful time was had by all.
---
At the end of January the Seniors in the IMPJ Youth Movement Noar Telem had a Shabbaton weekend to discuss their plans for the next year. At the end of the weekend half of the seniors decided to delay their drafting into the army to go on a Shnat Sherut, a Gap Year of Service. During this year they will work in the Movement and help to create and build more branches of Noar Telem in Israel. Pictured are the teens with their letters to postpone their army service. Kol HaKavod to this group for deciding to give a year of service, a year to help the Reform Youth Movement grow in Israel.
---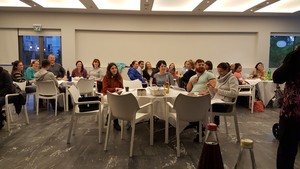 Giyur Class - Tu B'Shvat Seder
The IMPJ conversion students held a joint Tu B'Shvat Seder this month. These students are split into three classes, one taught in Hebrew, one in English and one in Russian. Converts come from all over the globe: the Philleapeans, South America, Europe, Romania, Chechenia, and Russia, to name a few. The groups meet at Beit Daniel in Tel Aviv for a year long process of learning. In addition, converts attend local congregations and have holiday centered group activities. Each year 220 people convert to Judaism through

the Israeli Council of Progressive Rabbis' Beit Din for conversion,

and we are happy to welcome them to Am Yisrael with open arms.