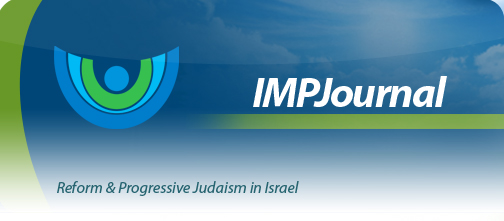 What's happened in Adar 5777-March 2017?
Dear friends,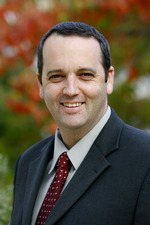 Two weeks ago we celebrated Purim at Reform congregations all across the country. We were so happy and proud to see all of the festive Megilla readings and activities taking place. Pictures from these joyous events were posted on our Website and Facebook page and we hope that you had a chance to see them.
Over the past month, Reform rabbis and leaders in Israel and North America had the opportunity to spend time together on two different occasions. We had the pleasure of welcoming the URJ leadership mission a couple weeks ago at our movement and congregations here in Israel and many of our Israeli rabbis enjoyed learning and praying together with their fellow rabbis in North America at the CCAR convention. This week's Parashot, v'Yakhel-Pekudei, which are read together, tell us about the hard work that had to be done to build the sanctuary. The Parashot begin with the words: "And Moses assembled all the congregation of the people of Israel…" and go on to describe the tedious steps that had to be taken to complete the work. This week's Parashot remind us of the importance of working together towards a common goal; that the people of Israel are stronger when they are united. There is no doubt that the two gathering opportunities which took place this past month reminded us of just that. We are blessed to be a united people and will continue working on making that bond even stronger.
As we are about to welcome Shabbat, we take a moment to mourn the loss, once again, of innocent people to blind hatred at the most recent attacks in London. We stand with the people of London and the entire UK, send our deepest condolences to families who have lost a loved one and a birkat refuah shlema to those injured. In the words of our Prophets we continue praying for peace and we say: "Nation will not take up sword against nation, nor will they train for war anymore" (Isaiah 2;4).
Wishing everyone a peaceful Shabbat.
Shabbat Shalom,
Sincerely,


Rabbi Gilad Kariv
---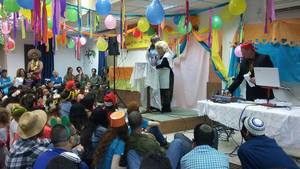 Purim at the IMPJ
The IMPJ congregations and departments had a joyful Purim Holiday. Our congregations were packed with costumed children and adults for festive Kabbalot Shabbat, Purim carnivals and performances, and readings of the Megillat Esther.
---
Each year Keren B'kavod, the IMPJ Fund for Humanitarian Assistance and Social Responsibility, runs their Kimcha d'Pascha (Flour for Passover) Campaign. On Passover they hand out food packages to individuals and communities from all sectors of Israeli society in need. To learn how to donate, please visit our website and remember to designate your donation to: "IMPJ-Keren b'Kavod".
---
This month, Tlamim, the IMPJ Young Adult communities, held Purim celebrations in Jerusalem, Tel Aviv and in our newest community in Be'er Sheva. Members of Tlamim, young Israelis and internationals came together, read the Megillat Esther, dressed in costumes, exchanged Misloach Manot, held festive Kabbalot Shabbat services and celebrated with a L'chaim or two. Our Tlamim communities continue to strive to keep Israeli Young Adults engaged in Jewish life in an accessible way.
---
This month, the leadership of the Union for Reform Judaism visited Israel. During their visit they held an egalitarian prayer at the Kotel and were hosted for Shabbat and Purim at a number of our IMPJ congregations. Click here to read Daryl Messinger, chair of the North American board of trustees and URJ President Rabbi Rick Jacobs' reflections on their trip.
---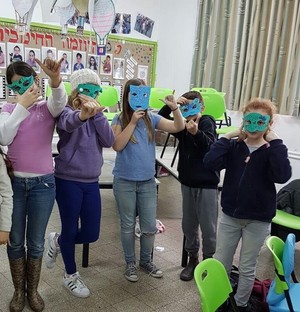 Yachdav School to School
Yachdav
, t
he IMPJ's School to School Twining Project, partners school classes from Israel with counterparts in the diaspora. These students participate in a joint study which takes place at two schools simultaneously. Along with the study sessions, the students celebrate the Jewish holidays together. Pictured are students from
Herzl School in Haifa. They sent
Mishloach Manot
(Purim packages) filled with
masks,
that they
made
,
Israeli grogers and snacks
to Temple Emanuel in Hawaii!
---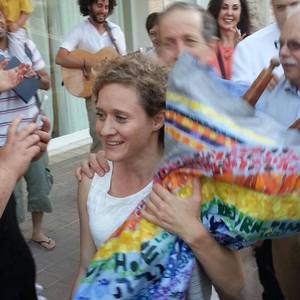 International Women's Day
Read student-Rabbi Naomi Efrat of Kehillat
Ramot Shalom
in Be'er Sheva's reflections. "There is something in this vocation, this mission, in the Rabbinic profession, that celebrates the skills and strengths unique to women. A natural tendency to feel compassion, to be moved, to be sensitive. To see the big picture. To connect to spirituality without disconnecting from intellect. To feel as a continuation of and a part of the past without ignoring the questions of the here and now. So many feminine powers and abilities, that it seems strange it was ever a traditionally male occupation. Therefore, it feels only natural to rejoice and to feel spiritually elevated by a ceremony led by women. For a moment we forget, that somewhere, out there, this female leadership is not obvious. But slowly, change is happening before our very eyes. Amen."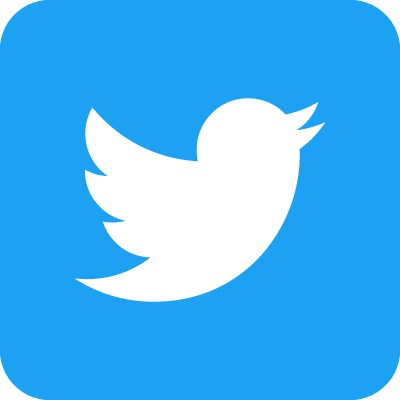 Forward this message to a friend
Click Here to Support the IMPJ