What's new for Sivan 5777-June 2017?
Dear Friends,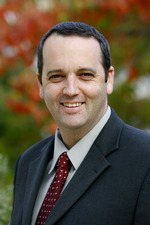 Last week, over 450 delegates from around the world gathered in Jerusalem for the World Union for Progressive Judaism Connections 2017 convention. This conference was an international celebration and a truly joyous event. The IMPJ was proud to join this festivity, as we studied together in sessions led by rabbis and colleagues from Israel and around the world, welcomed Shabbat together at the "Tachana" (First Train Station) in Jerusalem, held Shabbat morning services led by HUC Israeli rabbinical students, sang, danced and mingled.

We are so grateful to our partners in Israel and world-over for making this such a successful gathering.

We are already hard at work planning for the IMPJ Biennial, to be held in early June 2018. Please let us know if you can join us!

This celebration of a united Jewish people continues tonight, as we begin the holiday of Shavuot. During this holiday, we celebrate Am Yisrael taking an active collective role in religious life, promising G-d: "All the people answered as one, saying, 'all that the Eternal has spoken we will do!'" (Exodus 19:8). So too, Israeli Reform congregations will celebrate Shavuot with Tikkunim (nights of learning) across the country, studying into the night, as well as festive dairy dinners, Megillat Ruth readings, childrens' activities and more.

Shavuot is also, and perhaps first and foremost, known as the holiday of the harvest. Following the winter months, it is now time to reap what we have sown, as we read in the Book of Exodus: "...and the feast of harvest, the first-fruits of thy labors, which thou sowest in the field..." (23; 16). Just as we reap what we have sowed in the field, so do we work to reap the fruits of our hard labor year-round in continuing to bring pluralsitic and liberal Judaism to a growing number of Israelis and Jews worldwide. The recent Connections conference, and this Shavuot holiday, are great reminders of this hard, but also very rewarding, work.

On behalf of the entire IMPJ, I wish you and your family a Chag Sameach!
Sincerely,


Rabbi Gilad Kariv
---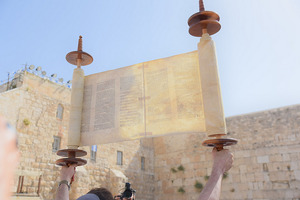 Kotel Morning Services
On thursday morning we gathered with the Connections participants at Robinson's Arch to finally celebrate the Bnot Mitzvahs of 13 women from South America who had been denied the opportunity in their childhood. From there we marched with our Torahs to the Kotel Plaza and successfully demanded entry. We continued on and finished our egalitarian Torah service in Kotel Plaza undisturbed, men and women reading the Torah and praying together. We ended the service with Hatikvah; many participants had tears in their eyes, being able to truly be Am Chofshi B'Artzenu- A Free People in Our Land! (Photo: Yehudit Hoffman)
---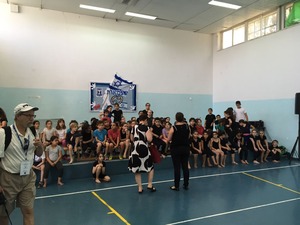 Reform Education in Israel
Connections attendees and leaders visited Tali Bait Vegan school in Jerusalem to discuss the early childhood education program of the IMPJ. The staff of Tali Bait Vegan along with Rabbi Galit Cohen Kedem from Kehillat "Kodesh V'Hol", Holon, Rabbi Stacy Blank from "Tzur Hadassah", Udi Cohen, Director of Ganei Hayin and Reut Newman, Director of the Jewish People Education Center, spoke about how to build Reform schools in Israel and how to establish school to school programming between schools in Israel and schools abroad. The children then put on a performance which included dancing and singing for Jerusalem Day.
---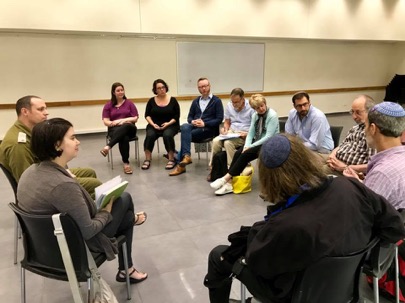 Israel Diaspora Relations
Our DOMIM-aLike department held the first International Rabbinic and Leadership DOMIM Kallah before the conference. With 100 Rabbis from 18 countries connecting for study and discussion. Also during the conference, the Executive Director of the Ministry of Diaspora Affairs, Hagai Elitzur, met with Reform, Progressive and Liberal representatives from Spain, South Africa, Great Britain, Canada, USA, France, Germany, Austria and Israel, to learn about their perspective on Israel-Diaspora relations in 2017.
---
In Shoam, Connections participants learned about our Emerging "u'Faratztah" congregations, as well as our Inclusion program. They heard from student-Rabbi Rinat Safania of Kehillat Shoham and Rabbi Miri Gold of "Kehillat Birkat Shalom" in Kibbutz Gezer. Both told their inspiring stories of founding and fostering new IMPJ congregations in their communities. We then heard from Yuval Newman, who is heading the IMPJ's Inclusion program, encouraging our congregations and departments to provide a model of full social integration and accessibility for people with disabilities. Yuval brought in an 18 year old young woman with special needs, who told us about her life; she also treated us to homemade sweets that she had prepared.
---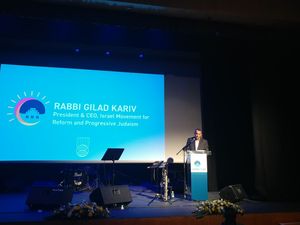 Rabbi Gilad Kariv's Speech to Connections
Rabbi Gilad Kariv addressed WUPJ Connections Conference attendees on Friday aftrernoon. In his speech, Rabbi Kariv reminded us that "Progressive Judaism must be a progressing Judaism" and that we must establish new models of community life through congregational, educational, cultural, and social frameworks. He stated that we must not be afraid to encourage these aspects of Jewish life, as the future of progressive and liberal Judaism depends on this. Click HERE to read his full speech.